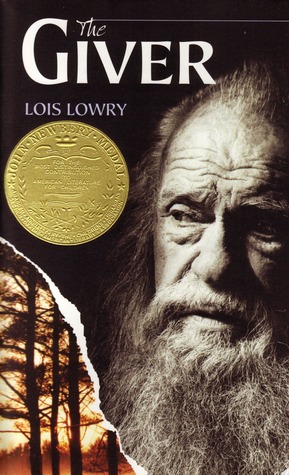 Jonas' world is perfect. Everything is under control. There is no war or fear or pain. There are no choices. Every person is assigned a role in the Community. When Jonas turns twelve, he is singled out to receive special training from The Giver. The Giver alone holds the memories of the true pain and pleasure of life. Now, it is time for Jonas to receive the truth. There is no turning back.
_______________________________________________________
This book is so depressing.  I have no idea why I like it, why it's one of my favorites, or why I re-read it today. (yeah.  I read the whole thing from cover to cover in one day.  Really, really bad decision)  Sure, there's bits of hope here and there, but for the most part, it's deep, dark, and depressing.  From the very first page, it's easy to tell that there's something wrong with the perfect, calm, utopian society.  And it freaks me out.  I don't think our world could ever, ever become like the one in The Giver, but it's still creepy.  Everything's too calm.  Too perfect.
Books can be incredibly feelsy, and The Giver is one of the worst ones (feels-wise) I've ever read.  It's a soul book, one of those rare volumes that worms its way into your heart and soul, latches on, and doesn't let go.  I first read the book several weeks ago, and it stuck with me for so long, and so hard that I finally had to purchase it.  The whole thing is emotionally exhausting.  I heavily cried my way through both reads, but I'm still not sure why.  I'm not even sure why I find it so depressing, but…I do.  The parts that make me cry the hardest are as follows…
the memory of warfare.
the discovery that Rosemary was The Giver's daughter.
Jonas' father 'releasing' the baby.
THE ENDING.
Ugh.  This book.  FEELS.  FEELS EVERYWHERE.
Jonas is an incredible character, even if he's only twelve.  I admired his strength, his courage, and even the moments when his courage failed him.  He wasn't a perfect character (how boring would that be?), but I loved him all the same.  The Giver was a beautiful character as well, and I felt as though I got to know Rosemary very well through the few words he spoke about her.  Now, Jonas' parents made me angry, especially his father.  I know they were living in a world without real emotions and feelings, but…the whole 'release' thing chilled me, and not in a good way.
Basically, The Giver is a gorgeously written piece of feelsy material.  The ending is ambiguous enough to be interesting, but it's not really a cliffhanger either.  Unlike some readers, I thought the ending was perfect.  The whole book, despite its depressing tone, is perfect.  Just, please read it.  It'll rip out your heart and crush your soul, but READ IT.  You might hate it at first, but you'll grow to love it too.  I promise.
Eva